Bird Books
Birds of North America
Enter Bird's Name in Search Box: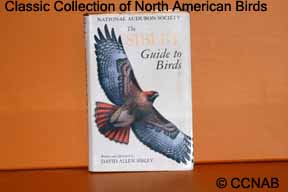 As in most cases, when one develops an interest on certain topics, one tends to gather sources of information on a particular subject. As these sources of information frequently come in the form of books, we naturally tend to find some books more helpful than others.

I have provided a list of books that I have found to be helpful in my quest to identify and better understand birds and their habitats. I found that these selected books are the most popular books on birds of North America and that they have been useful throughout my travels and personal research.
I believe you will find that the "The Sibley Guide to Birds" by David Allen Sibley, will be one of your most relied upon books at home and in the field. This is a marvelous book, which gives visual examples of a multitude of both male and female birds, in their breeding plumage, non-breeding plumage, and juvenile stages. This wide range of information and visual aid will undoubtedly provide succinct and helpful guidance in identifying a bird that you were not previously familiar with.


Bird books:
Return Bird Books back to Birds of North America
Classic Collection of North American Birds

CCNAB