Birds of North America, Vagrant Visitors, Introduced Birds and Possibilities
Willet
Chevalier semipalm&eacute
Tringa semipalmata
Enter Bird's Name in Search Box: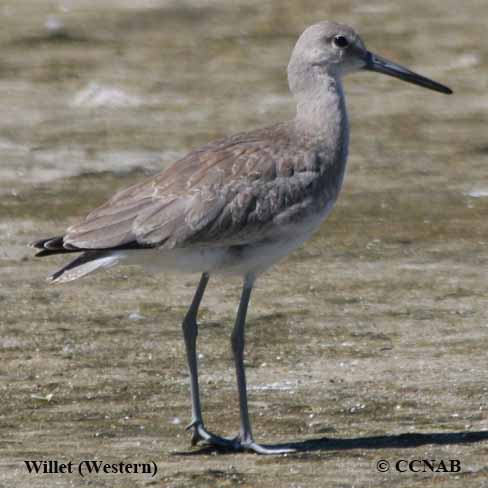 There are two sub-species of the Willet. One is the Willet (Eastern), recognized by its dark plumage, when seen in the breeding season. Seen from the eastern tip of Newfoundland, along the coast of the Atlantic, right into Mexico and the Caribbean islands. The other is the Willet (Pacific), it has lighter coloured plumage, when seen in the breeding season. This shorebird nests on the plains of the US and Canada. It is regularly reported seen in the eastern portions of the North American continent, spends its winter months along the Pacific coast right into Mexico.
Summer
Year Around
Winter

Willet are among the larger shorebirds seen in North America. Recognized by their chunky bodies, sturdy legs and thick bills. These birds when seen flying, have large white stripes through their wings, situated between black wing tips and coverts. Quite common to see them feeding on crabs during low tides waters.
Click on the bird images or names to see pictures
Willet (Eastern)

Willet (Western)

References to Other Bird Sites:
Avibase - the world bird database
ABA - American Birding Association
AOS - The American Ornitholgy Society
ABC - American Bird Conservancy
eBird - TheCornellLab of Ornithology
NAC - National Audubon Society
Classic Collection of North American Birds

CCNAB