Birds of North America, Vagrant Visitors, Introduced Birds and Possibilities
Alder Flycatcher
Moucherolle des aulnes
Empidonax alnorum
Enter Bird's Name in Search Box: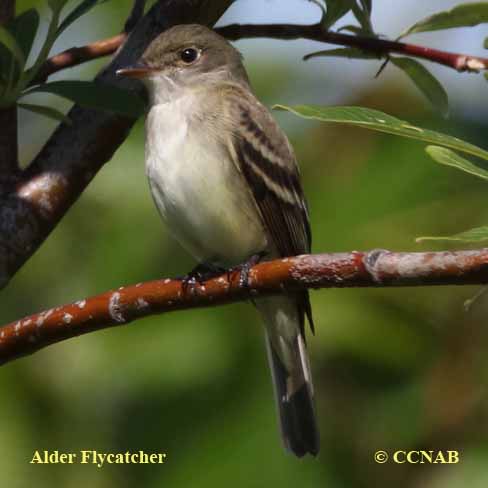 Life, Habitat & Pictures of the Alder Flycatcher
| B L | W W | W | Family | Latin Name |
| --- | --- | --- | --- | --- |
| 5.75" 14.6cm | 8.5" 21.6cm | 0.5 oz 14g | Tyrannidae | Empidonax alnorum |
Summer
Year Around
Winter

Distribution: The Alder Flycatcher is another member of the Empidonax family. It is often confused with the Willow Flycatcher as it looks quite similar. Found all over the island of Newfoundland and the eastern coast of Quebec's mid-north, through James Bay up into the Northwest and Yukon Territories and Alaska. Through the northern regions of British Columbia. It is also found in all of the prairie provinces into the states below the Great Lakes, east to the North Carolina coast and north into Nova Scotia.
References to Other Bird Sites:
Avibase - the world bird database
ABA - American Birding Association
AOS - The American Ornitholgy Society
ABC - American Bird Conservancy
eBird - TheCornellLab of Ornithology
NAC - National Audubon Society
Classic Collection of North American Birds

CCNAB