Birds of North America, Vagrant Visitors, Introduced Birds and Possibilities
Canada Jay
Mésangeai du Canada
Perisoreus canadensis
Enter Bird's Name in Search Box: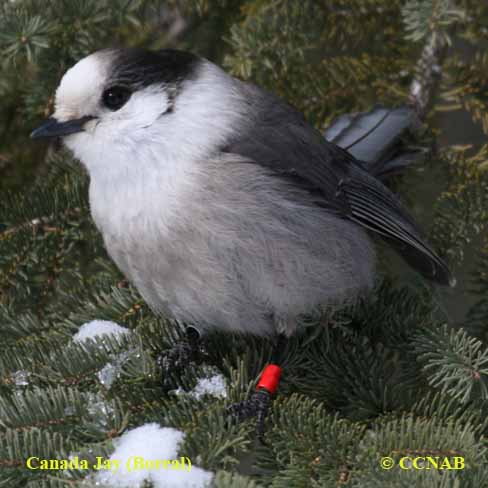 There are a number of sub-species of the Canada Jay seen in North America, some with subtle differences from the others and only the location would be the best indicator as to what sub-species it is. Below are examples of two of the races. The Canada Jay (Boreal) is seen across the widest range and is the most common. It can be found from the interior of Alaska, throughout the northern territories, eastern prairie provinces and right across the continent into Newfoundland and Labrador. The other is the Canada Jay (Northern), and is seen from the southern borders of the Yukon Territory, south through British Columbia and its ocean islands as well as right through to the northern California borders on the western side of the Rocky Mountains.
Summer
Year Around
Winter

The Canada Jay has once again retained its given name, as it was known into the 1950's. At that time it was renamed the "Gray Jay". This is a very friendly bird. Always welcoming people in parking lots, campgrounds or cabins in the woods. It has also been nicknamed the "Camp Robber" or the "Whiskey Jack". These forest birds do not migrate and are one of the few bird species that store food in caches in order to survive the cold winter months.
Click on the bird images or names to see pictures
Canada Jay (Boreal)
Canada Jay (Northern)
References to Other Bird Sites:
Avibase - the world bird database
ABA - American Birding Association
AOS - The American Ornitholgy Society
ABC - American Bird Conservancy
eBird - TheCornellLab of Ornithology
NAC - National Audubon Society
Classic Collection of North American Birds

CCNAB