Birds of North America, Vagrant Visitors, Introduced Birds and Possibilities
Common Chiffchaff
Pouillot véloce
Phylloscopus collybita
Enter Bird's Name in Search Box:
Species: The Common Chiffchaff (Dendroica castanea) is a member of the leaf warbler family seen throughout Eurasia. Quite similar to the Willow Warbler, and very difficult to distinguish apart from one another. One of the methods used to identify these two warblers, is to compare the lengths of the second and sixth primary feathers, but the bird must be in hand for this. In the case of the Common Chiffchaff, the sixth primary feather is longer. Prefers wooded areas for its habitat, can be found in open areas during the migration periods.
Distinctions: The male and female are similar in appearance. Off-white to light brown supercilium, brown cheeks, crown, nape, back and tail. Slightly darker brown wings, with no wing bars. Light brown flanks, and whitish-brown breast. Maybe a hint of green in plumage. It has dark black legs, one indication of its species, but not always reliable. Has a very distinguishable song that will identify it. Unfortunately, the leaf warbler family have many similarities among them. Similar warblers are Willow Warbler, Arctic Warbler, Greenish Warbler, Yellow-browed Warbler and the Bonnelli's Warbler to name some.
Voice: Chipping call, songs may sound like "chiff, chiff, chaff, chaff, chiff", repeated over.
Nesting: Three to five off-white coloured eggs with dark speckling. Builds nest low to ground, usually in a conifers or bush. The nest is composed of leaves, twigs, mosses, and lined with fine grasses and hair.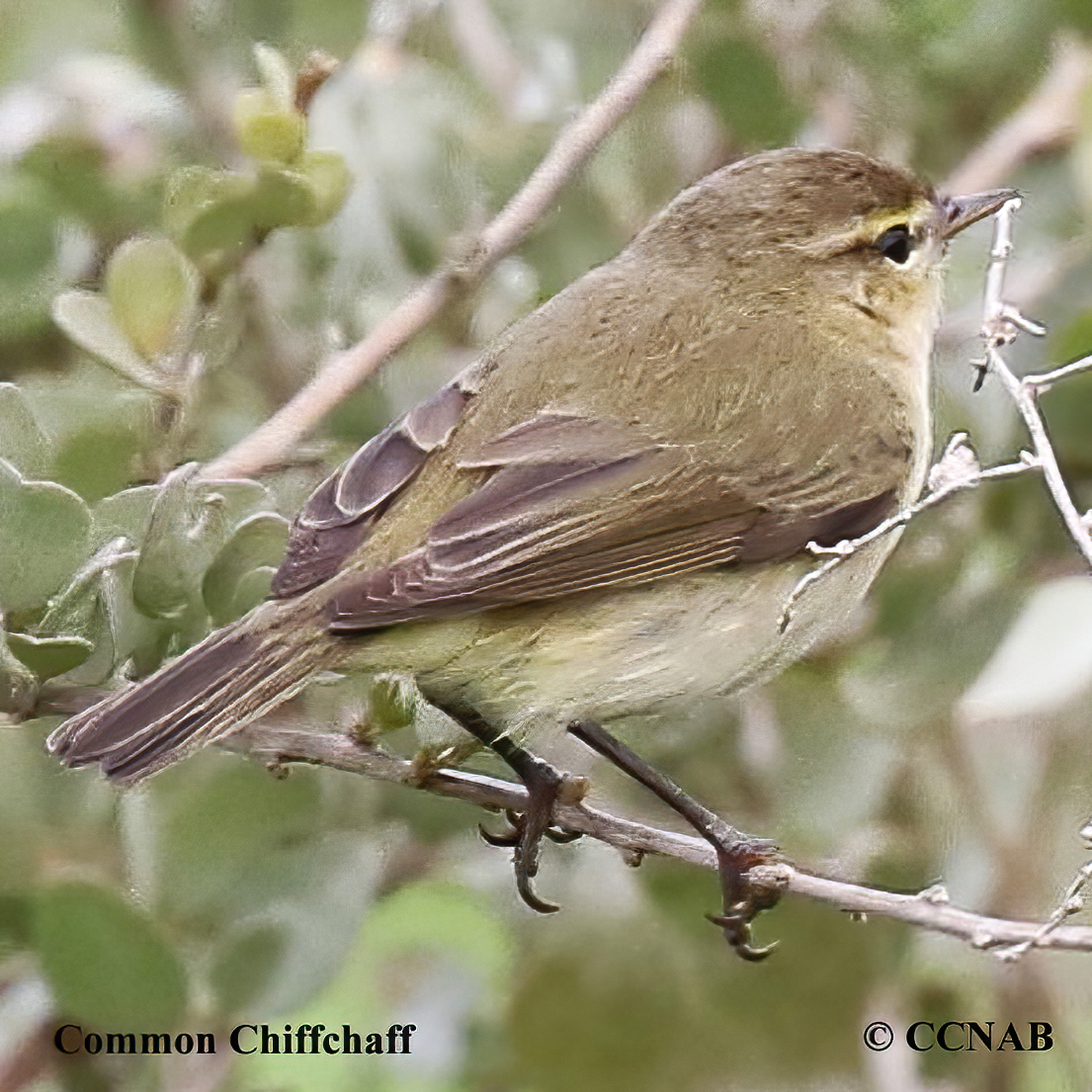 Has been a vagrant visitor from Eurasia
Life, Habitat and Pictures of the Common Chiffchaff
| B L | W W | W | Family | Latin Name |
| --- | --- | --- | --- | --- |
| 4.75" 12cm | 8.25" 21cm | 0.35oz. 10g | Phylloscopidae | Phylloscopus collybita |
Summer
Year Around
Winter
Distribution: Found throughout Eurasia, migrates into Africa during winter months. Has been a vagrant seen in North America.
References to Other Bird Sites:
Avibase - the world bird database
ABA - American Birding Association
AOS - The American Ornitholgy Society
ABC - American Bird Conservancy
eBird - TheCornellLab of Ornithology
NAC - National Audubon Society
Classic Collection of North American Birds

CCNAB