Birds of North America, Vagrant Visitors, Introduced Birds and Possibilities
Iceland Gull
Goéland arctique
Larus glaucoides
Enter Bird's Name in Search Box: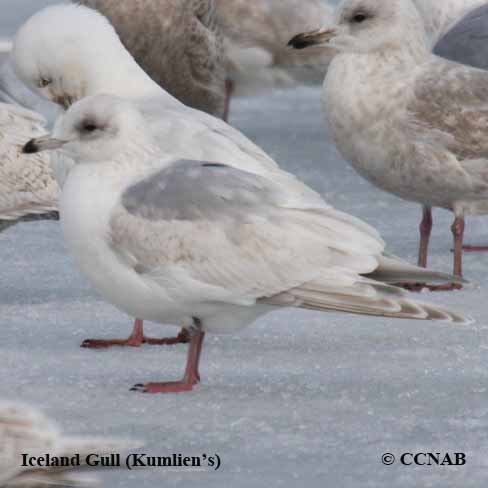 There are two races or sub-species of the Iceland Gull. These are the Iceland Gull (Thayer's), most recently loosing its status as a species of its own, being now recognized as a race of the Iceland Gull. It is known to nest in the central regions of the arctic, and spend its winter months along the Pacific coast. The other is the Iceland Gull (Kumlien's), which nest in the eastern arctic islands and on Greemland. These gulls are more likely to be seen in the winter months in the surrounding waters of St. John's, Ndewfoundland and Labrador.
Summer
Year Around
Winter

The Iceland Gull is a member of the white-winged gulls, gulls more likely to be seen in the north, where there is snow and ice. These hardy gulls are often seen in the company of the Glaucous Gull in eastern North America, and the Glaucous-winged Gull found in the western areas of the continent.
Click on the bird images or names to see pictures
Iceland Gull (Kumlien's)
Iceland Gull (Thayer's)

References to Other Bird Sites:
Avibase - the world bird database
ABA - American Birding Association
AOS - The American Ornitholgy Society
ABC - American Bird Conservancy
eBird - TheCornellLab of Ornithology
NAC - National Audubon Society
Classic Collection of North American Birds

CCNAB