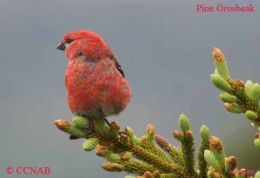 List of North American birds provides information for all the birds of North America that have been seen and reported on the continent at one time or another. This list includes the native birds of North America, as well as all the known vagrants that have shown up on the continent or within the boundaries of North America. Also included, are the species introduced from other areas of the world and who have adapted and are able to survive among the other species of birds. There are also the exotic birds which have escaped or been released by their owners. These birds may have found an area where they can thrive. Lastly, there are the domesticated birds taken from the wild and raised in a controlled environment. These birds are becoming larger than their wild cousins and are seen in city parks, public waterways and on farms.
Use the sorting icon to sort the columns. You can also use the search box at anytime to filter the data.
Note, B L = Body Length, W W = Wing Width, and W = Weight
These are links to websites pertaining to the different birding institutions, societies and organizations here in North America. Some of these same sites are a great asset to seeking out knowledge on birds in other regions of the world. Each of these links offer the user different methods to identify birds, whether it be by regions, habitat, appearance or maybe colour. Knowledge on the possibilities of where and what birds might be present are included.
I hope you will take advantage of these suggested websites. I have used each of them, in one way or another, throughout the years in my quest to better identify and understand our fine feathered friends.