Birds of North America, Vagrant Visitors, Introduced Birds and Possibilities
Bluethroat
Gorgebleue à miroir
Luscinia svecica
Lives, Habitats & Pictures of the Bluethroat
Enter Bird's Name in Search Box: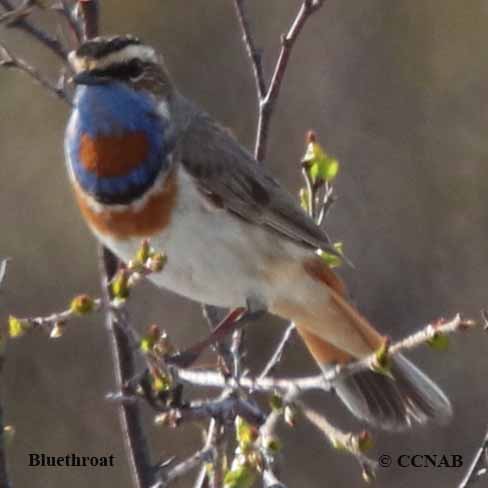 There are two races of Bluethroats known for their different appearances. These are the Bluethroat (red spotted) and the Bluethroat (white spotted). The Bluethrot (red spotted) is more common in Asia and the northern regions of Europe. This race is also seen in small numbers through the northern regions of Alaska during the breeding season. The Bluethroat (white spotted) is more likely to be found in the western and central regions of Europe, along the south-western coast of France to the southern borders of Portugal and Spain.
Summer
Year Around
Winter
The Bluethroat is a member of the flycatcher family. It is usually found in a bushy environment of willows and shrubs, near water. Nest in open tundra, where it can be observed perched at the top of short trees. Perches itself above the growth, where it may be singing or preying upon flying insects.
Click on the bird images or names to see pictures of sandpipers
Bluethroate (red spotted)
Bluethroat (white spotted)
References to Other Bird Sites:
Avibase - the world bird database
ABA - American Birding Association
AOS - The American Ornitholgy Society
ABC - American Bird Conservancy
eBird - TheCornellLab of Ornithology
NAC - National Audubon Society
Classic Collection of North American Birds

CCNAB