Birds of North America, Vagrant Visitors, Introduced Birds and Possibilities
Bluethroat
Gorgebleue à miroir
Luscinia svecica
Enter Bird's Name in Search Box: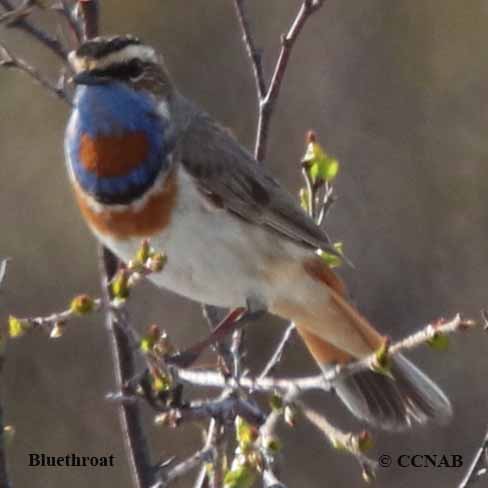 There are two sub-species or races of the Bluethroat. Of these two, the Bluethroat (red-spotted) is the only one that nests in North America. These attractive birds are found in the northwestern regions of Alaska. In the winter months they return to Asia. The other sub-species is the Bluethroat (white-spotted). This bird species is seen mostly in Europe. It spends its winters in the southern regions of Europe and are a common sight in Portugal. Both these races have dull brown backs, their tail is also brown but when flared open bright orange feather tips appear.
Summer
Year Around
Winter
The Bluethroat is a member of the flycatcher family. Their habitat is generally found near water, with short stunted trees, which they use to perch on. During their mating season, the male can be seen taking flight from these short trees, flying high up into the air, singing and diving back to the ground. When perched it spreads its colourful orange tail feathers and displaying its colourful throat.
Click on the bird images or names to see pictures
Bluethroat (red-spotted)
Bluethroat (white-spotted)
References to Other Bird Sites:
Avibase - the world bird database
ABA - American Birding Association
AOS - The American Ornitholgy Society
ABC - American Bird Conservancy
eBird - TheCornellLab of Ornithology
NAC - National Audubon Society
Classic Collection of North American Birds

CCNAB