Birds of North America, Vagrant Visitors, Introduced Birds and Possibilities
Brant
Bernache cravant
Branta bernicla
Enter Bird's Name in Search Box: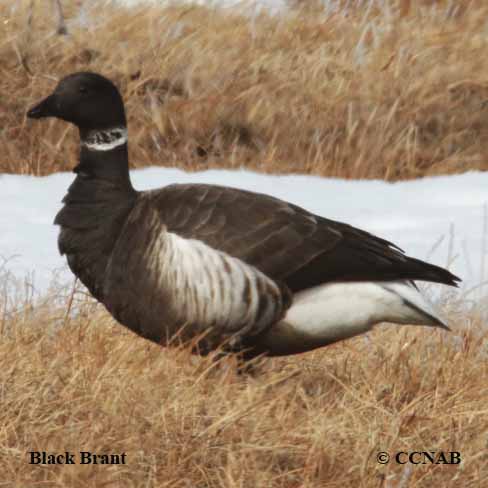 There are a variety of sub-species in the Brant family seen in North America. These sub-species or races range in colours of dark black, through to very light shades of grey. The Black Brant is a native goose of the north-western regions of the continent. These colours toned down in shades of grey as they are seen, going from west to east in North America, to the very light coloured Pale-bellied Brant of the Atlantic regions. These birds can also be seen with brown plumage. Brant breeds in the on the tundra and the high arctic, arriving on the nesting grounds when there are still signs of snow and ice.
Summer
Year Around
Winter

Brant is a member of the goose family, and is considered one of the smaller geese seen on the continent. Unlike most geese, Brant do not fly in an organized "V" pattern, but bunched together like flocks of birds, such has blackbirds for an example. They have an unique call, making them easy to recognized.
Click on the bird images or names to see pictures
References to Other Bird Sites:
Avibase - the world bird database
ABA - American Birding Association
AOS - The American Ornitholgy Society
ABC - American Bird Conservancy
eBird - TheCornellLab of Ornithology
NAC - National Audubon Society
Classic Collection of North American Birds

CCNAB